Trends in Maryland HIV/AIDS Rates
All comments that are made on this site come to me in email. I don't read every one, but I glance at them.
This afternoon a guy who used to be on the citizens advisory committee, Andrew, commented on a post that's about two months old, where nobody is likely to notice, I figure. He mentioned an interesting fact. He said that he remembered from his time on the committee that in Maryland most people who get AIDS get it from drug use, not sex.
I had never heard that before, and didn't know where to find out if it's correct or not.
Google is your friend. It turns out there is a state government agency called the Maryland AIDS Administration, and among other things they keep statistics on AIDS in Maryland. Here's what they said about HIV and AIDS Exposure Trends:
Men who have sex with men (MSM) was the most common mode of HIV transmission for AIDS cases until 1990. In 1991 injection drug use (IDU) became the most commonly reported exposure among newly diagnosed AIDS cases. Heterosexual contact with a partner who has or is at risk for HIV (HetSexPR) has represented an increasing proportion of reported exposure among all new AIDS cases and surpassed the percentage of MSMs in 1997. Exposure information for reported HIV cases in Maryland is incomplete at present, however, follow-up investigations are currently being conducted and this information will be more complete in the future. Injection drug use has been the predominant mode of HIV transmission for HIV cases. However, over time a greater proportion of newly reported HIV cases have identified transmission risk as heterosexual contact with a partner who has or is at risk for HIV (HetSexPR). Maryland HIV and AIDS Case Exposure Category Trends
And here's the graph that goes with it (HIV tracking starts in 1994):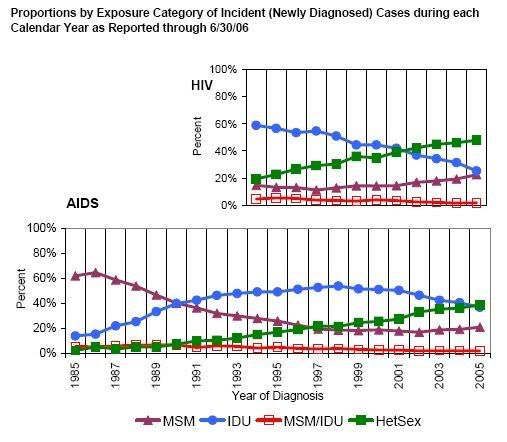 We know that in the world generally, homosexual contact accounts for a small proportion of AIDS cases. In the Western world, e.g., Europe and the US, because of how it was introduced and the epidemiological properties of sexually transmitted diseases, men having sex with men (MSM) have historically made up an unusually large proportion of cases.
In the state of Maryland HIV hit MSM first, it appears, like everywhere else in the country. But the proportion of cases in that category tapered off, as heterosexual transmission became more prevalent.
Though these graphs both represent newly diagnosed cases, the HIV graph is going to show cases that were contracted more recently. And while we see that IV drug users are slowly learning not to share needles, MSM statistics are meandering upward at a probably-nonsignificant rate, but heterosexual transmission is picking up at an alarming pace, in both HIV and AIDS diagnoses.
I know the CRC and the American Family Association want to remind us constantly about how dirty and disgusting gay people are, but if they were concerned about AIDS in our home state of Maryland, they would be focusing on straight people.