Whitman's PFOX Flyer
We got an email over the weekend from a student at Walt Whitman High School in Bethesda. He had seen a copy of the PFOX flyer that teachers were forced to hand out at Quince Orchard High School, and he said the flyer they were forced to hand out at Whitman was different. He sent us a copy of it: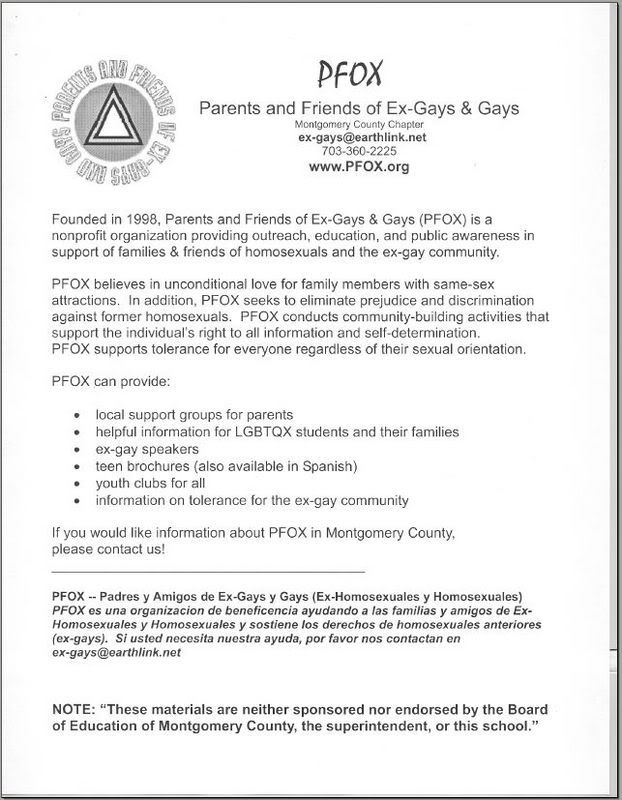 This is creepy. PFOX says sweet things about "unconditional love" and eliminating prejudice and discrimination, which is a good way to lure teenagers into contacting them. They are especially interested in attracting gay teenage boys.
They say "PFOX supports tolerance for everyone regardless of their sexual orientation."
That should be easy enough to check out, shouldn't it?
Peter Sprigg is the PFOX representative on the MCPS citizens advisory committee. So what does he say?
HERE
is an article from
Christian Century
magazine, quoting PFOX's rep Sprigg:
Sprigg noted that heterosexual marriage offers society natural benefits that same-sex unions naturally do not, such as children. He also said society has a legitimate public-health interest in opposing homosexuality.
Tell me, how do you "support tolerance for everyone regardless of their sexual orientation" while at the same time "opposing homosexuality?"
Or, how about this? When President Bush appointed a gay man to be the United States' Global AIDS Coordinator, and Condoleezza Rice referred to the man's partner's mother as his "mother-in-law," Sprigg
said
: "The deferential treatment that was given not only to him but his partner and his partner's family by the Secretary of State Condoleezza Rice is very distressing."
Oh, they treated the guy like a human being, and spoke as if his family were a real family -- how terrible.
Hey,
here
's one of my favorites. This was a couple of years ago when PFOX's Peter Sprigg and others decided that a web site with a "tolerance pledge" was really a front for SpongeBob SquarePants and other gay-advocate cartoon characters.
"If you look at the Web site, it becomes pretty clear that a part of the agenda is to change the definition of family to include virtually anyone who chooses to be called a family, including homosexual couples and homosexual couples raising children," said Peter Sprigg ... "Much of what they have is coded language that is regularly used by the pro-homosexual movement such as 'tolerance' and 'diversity.'

"Ultimately we feel that this is being used as propaganda to indoctrinate very small children to accept a different definition of family."
So it turns out the guy's actually opposed to tolerance itself. But ... I thought PFOX said they
support
tolerance.
Look, I could go on all day -- PFOX does not support "tolerance for everyone regardless of their sexual orientation." That's ridiculous. The whole reason they exist is to try to keep young gays afraid to come out, and to convince those who have come out to go back into the closet. Their message is a lie, and their deceitful methods are deplorable.