Too Good!
The Family Blah-Blah groups prefer the word "homosexual" to "gay" because it has "sexual" in it, and they want you to think that all gay people ever do is have sex all day, every day. So when they get a, you know, "politically correct" wire story, the America Family Association's
OneNewsNow
web site just goes ahead and changes all instances of the word "gay" to "homosexual." Automatically.
So there's an Olympic track runner named Tyson Gay. He won his semifinal races, and the Family Blah Blah guys wanted to post the news.
You can guess how it came out: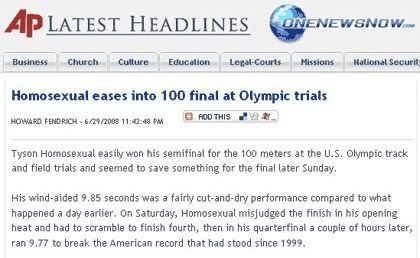 Right Wing Watch
has a whole list of these things.
Sometime you have to laugh just to keep from crying.