The Shower-Nuts Are Still At It
Heard outside the Giant at Neelsville Village Center today, September 13, 2008: "Would you like to sign a petition to keep men out of women's bathrooms?"
Yes, the shower-nuts are still at it. We had a comment here on the blog from someone who described an encounter with petition signature gatherers in Germantown this afternoon, so I went out there.
Let me explain. The Citizens for a Responsible Whatever wanted to have a referendum to relegalize gender identity discrimination. The highest court in the state said no, there will be no referendum. The law went into effect immediately this week. It's in effect now, you can't discriminate against someone on the basis of their gender identity. The deadline for filing for a referendum has passed.
So why are they still getting signatures? I hopped in my car and drove out there to find out. I live in Rockville, it took about a half hour to get there.
I came across a woman in the parking lot with a clipboard and some yellow papers, and walked up to her, camera in hand.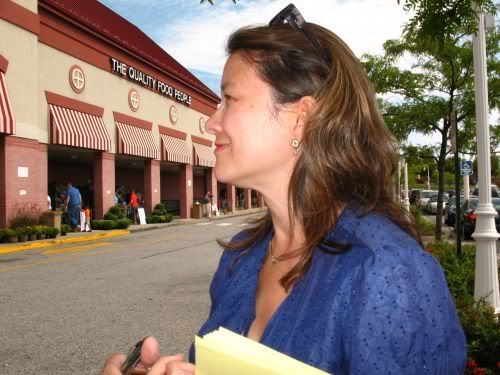 "What's going on here?" I asked
"Don't you already know?" she said.
"No." I guess that was an honest answer, I know who they are and what they want, but I did not know why they were still looking for signatures.
This lady clocked me. "You're Jim Kennedy, aren't you?" she said (I thought I detected the quiver of awe in her voice, maybe not).
"Yes. What's your name?"
"Why do you need to know that?"
"Well, you know mine."
I told her the deadline was past, and asked why they were out there. "We need more signatures," she said. She did not want to talk to me.
"So you hope they'll extend the deadline?" That was the end, she clammed up.
I wandered up toward the Giant store. And actually, I wonder, given some of the wording in the bill, if Giant can't be in some jeopardy for allowing this kind of unwelcoming language at their place of business. It was one thing in February, but now ... I'd think twice about this. The law is in effect, this is no time to be saying that trangender people are sexual predators. For some reason, Giant stores have been the favorite location for the shower-nuts. I wonder if Giant's lawyers have studied the new law.
There was another lady there. As I walked up she stopped somebody and said, "Would you like to sign a petition to keep men out of women's bathrooms?"
The second lady tried to hide her face when I pointed the camera at her, but I got her before he raised her clipboard. "Too late," I said.
She wants to gather signatures to retain the right to discriminate against a group of people but she doesn't want you to see her face. May I suggest the white robe with matching hood?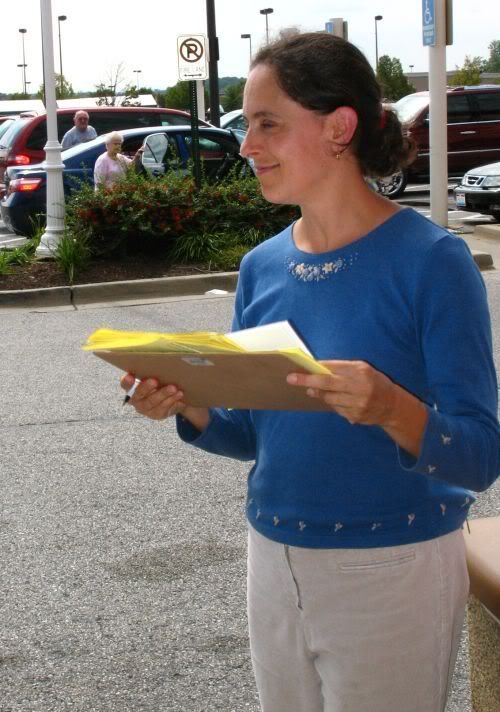 "Is that what you're telling them?" I asked. She didn't answer. I guess it was obvious, of course that's what they're telling people, I heard it with my own ears.
The first lady came back with a video camera to make what may be the most boring video in history. I stood there waiting to see if somebody else would come up, and it's all on tape. She taped me writing some notes on a piece of paper against a wall. They were flustered. The camera was aimed at me, she kept it rolling. I felt so bad, my shirt-tail was out, my hair was a mess, I am going to look terrible on YouTube. Oh, and this old shirt even has a hole in the pocket, I will be so embarrassed when millions of people watch this video online.
I took some pictures of their table.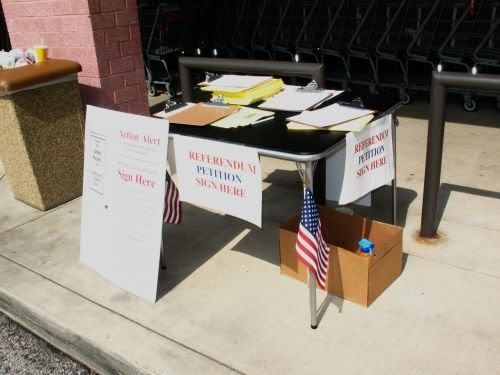 The first one pulled the second one off to the side for a conference. I'd be pretty sure she was telling her not to talk to me. Him bad, very bad person, no talky that one.
They looked like nice enough ladies, you wonder what motivates them to stand out there on a hot Saturday afternoon and lie to people.
I got a picture of the sign they had up, too: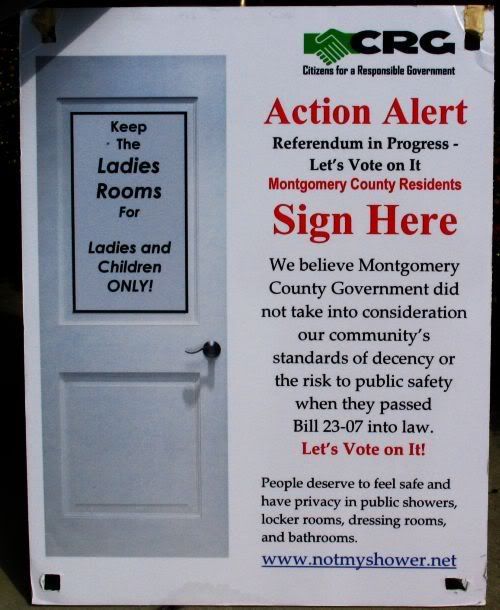 It's all about the showers.
These people are committed, or should be, and we have to stay vigilant against them. You can't rest, they live to promote their bigotry and they won't let up.
Last night we had the nicest victory celebration over in Silver Spring, several County Council members showed up, a state Senator, luminaries and heroes and hard-working volunteers, and we drank a toast and they made speeches, and it was really nice. The fight is over. It's time for the shower-nuts to move on to something else.