Four Years Since Victory
Four years ago Our Leader announced our great victory in Iraq.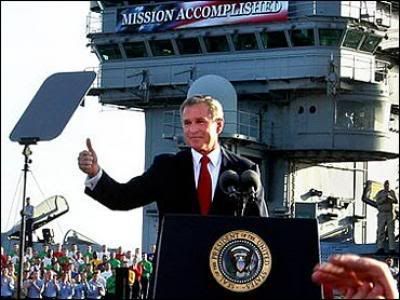 In the immortal words of Chris Mattews on that day:
What's the importance of the president's amazing display of leadership tonight?
...
What do you make of the actual visual that people will see on TV and probably, as you know, as well as I, will remember a lot longer than words spoken tonight? And that's the president looking very much like a jet, you know, a high-flying jet star. A guy who is a jet pilot. Has been in the past when he was younger, obviously. What does that image mean to the American people, a guy who can actually get into a supersonic plane and actually fly in an unpressurized cabin like an actual jet pilot?
...
Do you think this role, and I want to talk politically [...], the president deserves everything he's doing tonight in terms of his leadership. He won the war. He was an effective commander. Everybody recognizes that, I believe, except a few critics. Do you think he is defining the office of the presidency, at least for this time, as basically that of commander in chief? That [...] if you're going to run against him, you'd better be ready to take [that] away from him.
...
Here's a president who's really nonverbal. He's like Eisenhower. He looks great in a military uniform. He looks great in that cowboy costume he wears when he goes West. I remember him standing at that fence with Colin Powell. Was [that] the best picture in the 2000 campaign?
Matthews on another show:
We're proud of our president. Americans love having a guy as president, a guy who has a little swagger, who's physical, who's not a complicated guy like [former President Bill] Clinton or even like [former Democratic presidential candidates Michael] Dukakis or [Walter] Mondale, all those guys, [George] McGovern. They want a guy who's president. Women like a guy who's president. Check it out. The women like this war. I think we like having a hero as our president. It's simple. We're not like the Brits. We don't want an indoor prime minister type, or the Danes or the Dutch or the Italians, or a [Russian Federation President Vladimir] Putin. Can you imagine Putin getting elected here? We want a guy as president.
Ah, those were the days, weren't they?