Dog-Packing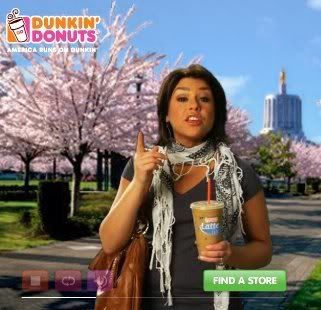 Let me say this straight: I don't know who Rachel Ray is, and I don't like her. I see her smiling face on cereal boxes and everywhere, those teeth are too white, eyes too shiny, those dimples are too wholesome for this boy. Sorry, it's not a political thing, she just isn't my type. Trust me, she wouldn't like me, either.
OK, I just looked her up in Wikipedia, and maybe she's okay. She said, "I'm completely unqualified for any job I've ever had." So maybe she's not so bad.
Whatever, you can imagine that when Rachel Ray appeared in a Dunkin' Donuts ad, I did not pay any attention. But apparently rightwing nut-blogger Michelle Malkin did. She decided that the scarf Ms. Ray was wearing around her shoulders looked like an Arab headdress called a kaffiyeh.
My question would be: so what? I might wear a Mexican sombrero, or Italian shoes (if I could afford them), I used to wear Indian water-buffalo sandals back in college ...
Ms. Malkin decided that the scarf meant that Miss Sunshine Dimples, Rachel Ray, and by implication the entire Dunkin' Donuts corporation, was supporting Arab terrorists.
Dunkin' Donuts pointed out that it was a paisley scarf, not an Arab headdress. Still, they ended up pulling the ad.
BOSTON (AP) — Dunkin' Donuts has pulled an online advertisement featuring Rachael Ray after complaints that a fringed black-and-white scarf that the celebrity chef wore in the ad offers symbolic support for Muslim extremism and terrorism.

The coffee and baked goods chain said the ad that began appearing online May 7 was pulled over the past weekend because "the possibility of misperception detracted from its original intention to promote our iced coffee."

In the spot, Ray holds an iced coffee while standing in front of trees with pink blossoms.

Critics, including conservative commentator Michelle Malkin, complained that the scarf wrapped around her looked like a kaffiyeh, the traditional Arab headdress. Critics who fueled online complaints about the ad in blogs say such scarves have come to symbolize Muslim extremism and terrorism.

The kaffiyeh, Malkin wrote in a column posted online last Friday, "has come to symbolize murderous Palestinian jihad. Popularized by Yasser Arafat and a regular adornment of Muslim terrorists appearing in beheading and hostage-taking videos, the apparel has been mainstreamed by both ignorant (and not-so-ignorant) fashion designers, celebrities, and left-wing icons." Dunkin' Donuts pulls Rachael Ray ad after complaints
The reasoning is this:
Members of a culture that includes some bad people wear traditional clothing item X.

Therefore anyone wearing clothing that vaguely resembles item X is encouraging bad people.
And what does it say about Dunkin' Donuts that they didn't have the chutzpah to stand up for themselves? It couldn't be that hard to come out and say, look, it's just a scarf, and besides we paid for our airtime, we just want to sell doughnuts and coffee, leave us alone. It's just inconceivable to me that somebody would be so gutless that they would be intimidated by fools like this.
Montgomery County came under attack in just this way a couple of years ago, some nuts started accusing the school district of promoting homosexuality, encouraging kids to be promiscuous, and other stupid stuff, just as stupid as this. When we jumped into the fray, there was a real chance that the district would be hounded until they gave up their new sex-ed curriculum, just to keep the noise level down.
You can't do that, you have to stand up to them.
Skipping ...
Amahl Bishara, an anthropology lecturer at the University of Chicago who specializes in media matters relating to the Middle East, said complaints about the scarf's use in the ad demonstrate misunderstandings of Arab culture and the multiple meanings that symbols can take on depending on someone's perspective.

"I think that a right-wing blogger making an association between a kaffiyeh and terrorism is just an example of how so much of the complexity of Arab culture has been reduced to a very narrow vision of the Arab world on the part of some people in the U.S.," Bishara said in a phone interview. "Kaffiyehs are worn every day on the street by Palestinians and other people in the Middle East — by people going to work, going to school, taking care of their families, and just trying to keep warm."
There is a phenomenon here that thinking people need to identify, we need to have a straightforward way to identify it and deal with it when it comes up. In my mind, I call this "dog-packing."
It used to be, in the days before leash laws, that packs of dogs would run around the streets, knocking over garbage cans, pooping in the street, and otherwise behaving in a doglike fashion. Occasionally something would happen, and a cat or a smaller dog or a kid, especially a little kid, would somehow attract the pack's attention, and an ordinarily-peaceful pack of dogs would attack, often lethally. There are still
occasional news stories
of this sort of thing.
Dogs are social, and emotion is contagious. A dog by itself is unlikely to do this. The occasional pit bull will get out of hand, but generally it takes two or more of them. I don't know what triggers it, maybe one growls and the others hear that and they growl, they start showing their teeth and convincing themselves that they want to kill something, and violence erupts. I don't know how it starts or what amplifies the aggressiveness, but it can get wild and out of control.
They smell fear, or so people say -- the very worst thing their victim can do it to show that they are afraid. If you get dog-packed the only thing you can do is counterattack, even if you're bluffing -- run at them, wave your arms, yell. You can scare away a pack of dogs, but if you try to run or defend yourself they can chew you up.
Dunkin' Donuts could have turned this around. They could have seen the opportunity for free publicity, and made some public display of patriotism or whatever, auctioned off that scarf for supplies for the troops, made a joke out of it. I really wish they had. Instead they tucked tail and took a whoopin'.
Nobody
really
thought Dunkin' Donuts or the Lovely Miss Dimples Rachel Ray was pro-terrorist, any more than a pack of dogs thinks that the cat they're killing is going to be good to eat. There is no sense to this kind of thing, nothing is better because of this. There are real problems in the world, and people have to salivate and go into a frenzy over the fact that a scarf on a doughnut ad is going to encourage terrorists.
In our county, we have learned this lesson. You don't turn and run from these nuts when they try to make something out of nothing. They were making insane allegations about the school district, now they're making even more insane allegations about the new antidiscrimination law, saying it means that pedophiles and perverts will be hanging around in the ladies rooms of our county. You can't let them do it, you can't let them get you on the defensive, you have to run at them, wave your arms, yell.